9c. Soap Cartooning Machines
A soap cartoner, also called soap cartoning machine, is studied to put a soap bars inside a small carton box. The soaps bars arriving from the infeed chain is inserted by a set of pushers.
A set of shafts with suction cups transfers the squared carton from the magazine into the toothed chain.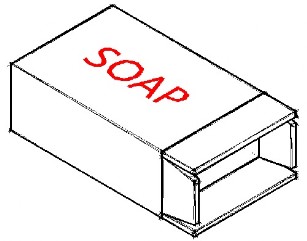 The carton boxes mainly have three types of closure: tuck-in closure, reverse tuck closure or the carton box can be closed by means an hot melt system that spray the glue on the external parts of the carton. There are two types of soap cartoner: alternate motion for a maximum speed up to 180 soaps per minute, or continuous motion with a maximum speed up to 500 soaps per minute. Depending by the production rate, the soap infeed system can be done by means of pushers or with high speed systems.