9b. Soap Wrapping Machines
SOAP WRAPPERS
A soap wrapper offers the possibility to wrap both rectangular and oval bars with or without side band, using outlet paper and inner stiffener; this last is useful for a stability to oval and bandless soap bars. This wrapping style is called double-point end fold.
The paper feeding is from heat sealing reel, but some models of soap wrappers are studied to work also with pre-cut sheets. To save money in the last years was invented some kits, assembled on the soap wrappers, to use BOPP (Biaxially oriented polypropylene film) instead of heat sealing paper. BOPP can be transparent or also printed.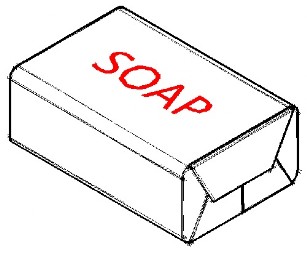 All the soap wrappers assembles an automatic infeed system able to feed the stamped soap bars coming from the Soap Press. Toilet soap bars are fed by means of suctions cups while laundry rectangular soap bars usually are fed by pushers.
The production rate of a soap wrapper is in the range from 100 up to 500 wrapped soaps per minute. The high speed soap wrapper is produced in Italy; this model was developed for big soap finishing line and it is able to wrap up to 500 soap bars per minute.